You are here:  

Latest News
Details

Category: Prayer & Ritual Ceremonies
Hits: 47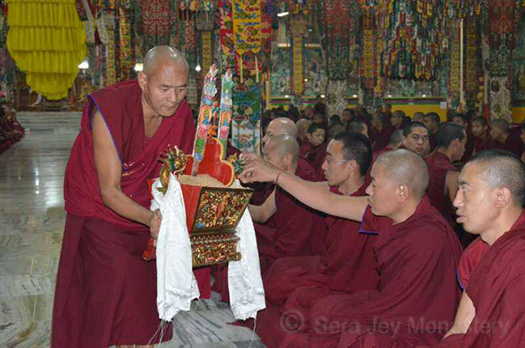 A traditional monastic Lorsa celebration ceremony was held at the monastery in the early morning hours of 27th February 2017, to mark the beginning of Tibetan New Year 2144, the year of Fire Bird.
The monastery's abbot - Khen Rinpoche presided the Lorsa celebration ceremony along with the administration and other dignatories.
Details

Category: Prayer & Ritual Ceremonies
Hits: 40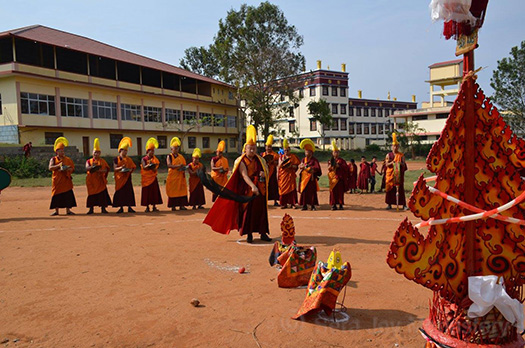 Guthor Ceremony, the traditional ceremony held a day before the Tibetan New Year eve (Losar) 29th day of 12th Tibetan calendar month ( 25th February 2017) observed for clearing all negativity and misfortune of the preceding year to make way for a prosperous and successful New Year was held on 25th of February 2017
Details

Category: Prayer & Ritual Ceremonies
Hits: 37
Tamdin Phurjel, The sacred relic of Hayagriva Ritual Dagger blessing ceremony of Sera Jey Monastery was held on 23rd February 2017. The sacred relic is brought out from confined retreat once in a year on the 27th day of 12th Tibetan calendar month to bless sentient beings, usher harmony and prosperity. Devotees congregate to the monastery to receive the blessing of Tamdin Phurba (Hayagriva Ritual Dagger) on this auspicious day.
Details

Category: Prayer & Ritual Ceremonies
Hits: 406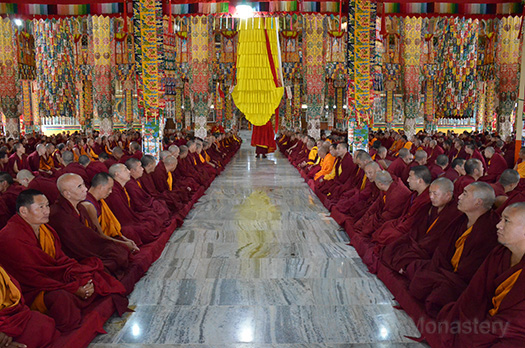 The annual great prayer ceremony - Sangchos Monlam, of Sera Jey Monastery has commenced from 22nd – 28th of January 2017. This great prayer ceremony is the first of the seven week's dedication prayer of the monastery's main curriculum text's author - Jetsun Choekyi Gyaltsen's parinirvana. The ceremony is observed in assembly by the entire sangha of Sera Jey with great reverence beginning early before dawn as early as 2.30 am in the morning.
Upcoming Events
Date: 25-09-2016 | Hits:21
Date: 26-09-2016 | Hits:373